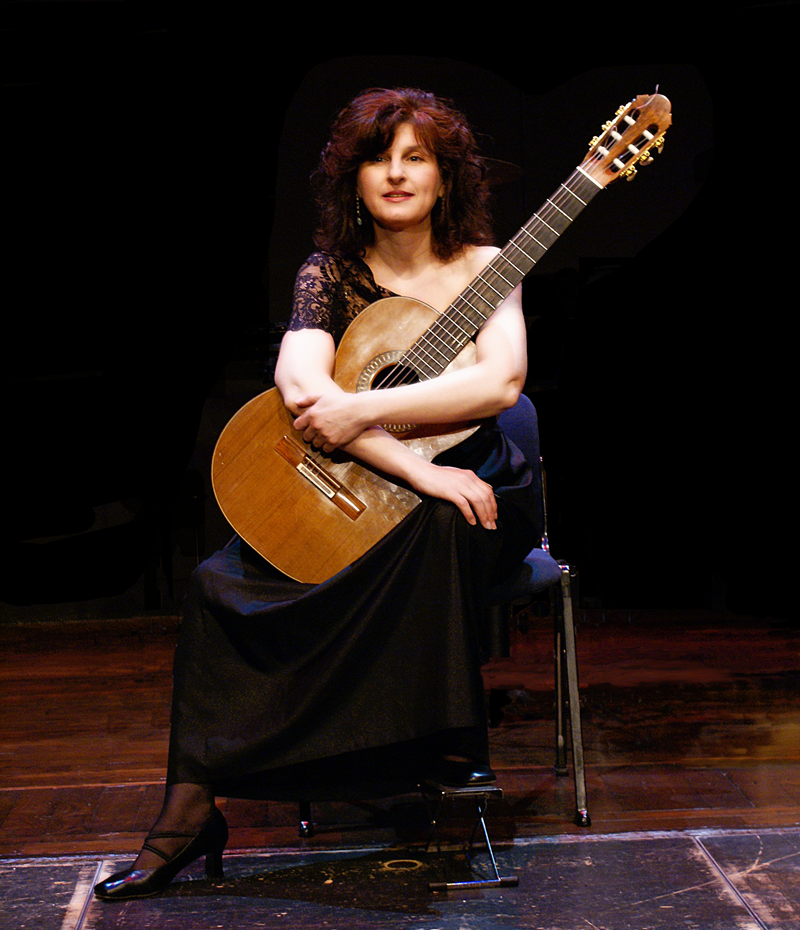 EUGENIA KANTHOU

Born into an artistic family, the Greek-Cypriot guitarist Eugenia Kanthou, studied guitar with Karl Scheit and composition with Friedrich Neumann at the University of Music and Performing Arts in Vienna. Her later collaboration with the renowned guitarist Konrad Ragossnig was a source of important artistic and pedagogical impulse. Eugenia Kanthou was a prize-winner at the "Fernando Sor" International Guitar Competition in Rome.
Her artistic  life  embraces  several  and  varied  activities  as  a  teacher,  soloist, chamber musician and editor. As soloist and chamber  musician, she  has taken part in internationally renowned festivals and concert series such as the Forum Gendarmenmarkt  in the  Berliner Konzerthaus,  the Spectrum Concerts Berlin and the Koblenz International Guitar Festival & Academy in Germany, the Vienna Festival and  Vienna Music Summer,  the  Carinthian Summer and the Forum Gitarre Wien in Austria, the  Marlboro Music Festival in the USA, the Tibor Varga Festival in  Sion, Switzerland, the Gotland Chamber in Sweden and the International Guitar festival J.K. Mertz, in Bratislava. She has performed with the tenors Jon Humphrey and Jan Kobow, the violinists Ulf Wallin and Lukas David, the guitarists Göran Söllscher and Konrad Ragossnig, and others. Together with the soprano Eleni Kanthou she has toured many European countries as the Duo Guitar & Voice. Since 2008 she has been a member of the ensemble "United Guitars".
Eugenia Kanthou specializes in 19th and 20th century guitar repertory; early 19th century guitar music is preferably played on historical guitars.
Eugenia Kanthou recorded for the label Preiser Records (Guitar & Voice and Hommage à la Guitare) ans hANDm records (la Guitare Romantique). Furthermore, she has edited guitar music for Universal Edition and Doblinger. Her arrangement of Maurice Ravels "Five Greek Folk Songs" in a version for voice and guitar has been recently published by Gehrmans Musikvörlag, in Stockholm.
Eugenia Kanthou lectured guitar and chamber music at the University of Music and Performing Arts in Vienna until 1998. Since 1999 she has been a guest professor at the Hochschule für Musik "Hanns Eisler" in Berlin.